The Benefits of Creating a Business Podcast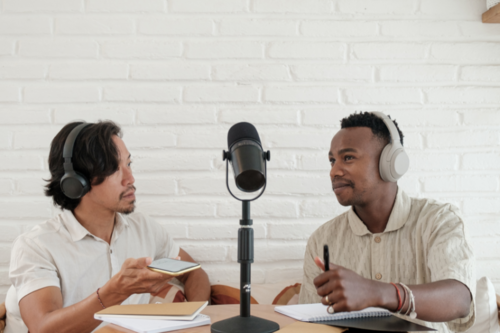 Looking for new ways to promote your business?
Do you listen to podcasts?
Pew Research Center says that about 42% of Americans listen to podcasts monthly. That's over 140 million people! What better way to expand your business's audience?
There are many benefits to starting a podcast for your business. Here are just a few:
Podcasts create a more connection.
Listening to podcasts offers an alternative for people who don't have time to read online. This is an easy way to expand your audience. Because podcasts are made by talking, they're great for showing your listeners that you're a person just like them. At the same time, this gives your business another layer of personality.
One way to do this is to let your audience peek behind the curtain. People love looking "behind the scenes," and it's a great way to both educate and build trust with your listeners.
Podcasts are cheap to produce.
Quality of equipment makes a big impact when producing videos, but when producing podcasts, all you need is a good sound. As long as you have a laptop and a quiet space, you can make a good podcast! Because there are no visuals, the production of the podcast doesn't overshadow the script. Compelling content overrides the quality of your equipment.
Of course, purchasing high-end equipment never hurts, but it's completely optional for those on a budget. Podcasts are an accessible way for small businesses to increase their content and audience without breaking the bank.
Podcasts increase website and social media content.
Having more content on your website and social media platforms is great for SEO! More content and frequent posting both increase website traffic, and podcasts are a meaty way to do that. They can be produced on a regular basis and offer listeners a new, interesting way to learn about your business. If you pair useful information with personality in your podcast, it brings up both the quality and quantity of your website and socials!
Rock Your Social Media in Michigan
Ready to up your Michigan social media game?
The team of Internet Marketing Directors at Michigan SEO Group can help you produce, manage, and optimize your business's social media. Call (877) 815-6974 or submit a contact form here to get started. Click here to read reviews from our happy clients!