How Marketing and Web Design are a Perfect Pair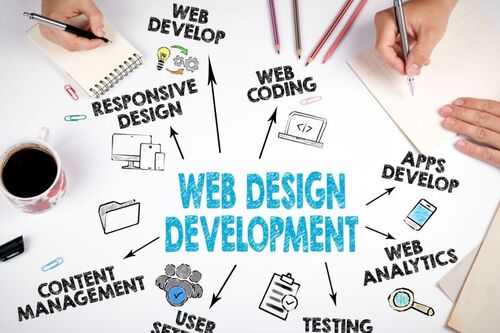 Does your website need a facelift?
Looking for ways to boost your company's visibility?
Did you know you can do both at the same time?
Not only is it possible, but it's also recommended!
Your business's website isn't just connected to marketing—it IS marketing. A viewer's experience on your website will influence how they engage with your company. Two things need to happen for people to engage with your company through your website: 1) they need to find it, and 2) they need to have a good experience with it.
Finding Your Website
If no one can find your website, then it doesn't matter how it looks! Web design and digital marketing work together: marketing brings people to your website, and your website brings people to your business.
Promoting your website on social media is a great start. You can do this yourself, but it pays to have people who know how to properly optimize social media posts. Having a marketing team help manage your business's social media will help your posts reach a larger audience and direct traffic to your website!
For truly effective marketing, you'll want a team that can optimize the website itself and continuously release quality content. This will help your website appear in search engine results.
User Experience Includes Appearance
It's important for your website to be user-friendly. A user-friendly site is easy to navigate, and viewers can quickly find the information they're looking for. Viewers won't stay on a site that's difficult to navigate, which you've probably experienced yourself!
Web design includes function of course, but it can be easy to overlook appearance as part of the user experience. Colors, fonts, and photos are just as important as functional buttons and links. If your website looks nice, viewers will stay to have a look. Even if your website is full of info and easy to navigate, viewers won't be inclined to stick around if it's not nice to look at. This is another thing that you CAN do yourself, but having a team of professionals is much more efficient and effective.
Team Up with a Michigan Web Design & Marketing Company
Need a new website? How about a team of friendly, professional marketing writers? Michigan SEO Group has you covered!
Our team specializes in internet marketing and web design in Michigan, but the online nature of our business means we can help companies anywhere in the world! To give your website and business some quality TLC, call (877) 815-6974 or submit a contact form here.