4 Tips for Promoting Your Business on Social Media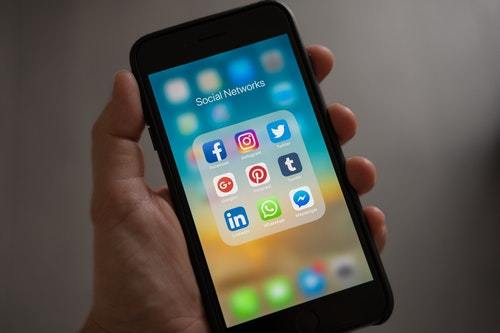 According to Oberlo, 3.78 billion people worldwide (about 48% of the world's population) use social media for social connection, news, sharing of information, and entertainment.
Are your dream clients among them? With numbers like that, chances are good!
Should you be promoting your business on social media? The statistics support it, and we agree. Using social media for your business is a smart way to:
Promote your business on a small budget
Develop a relationship with your customers
Inspire brand loyalty
The average social media user spends over 2 hours per day using messaging and social networks. How can your business best take advantage of that?
The long version of the answer depends on your product or service, your customer base, and other factors unique to your business. But, some principles are universal – like these four tips that can strengthen any business's social media game:
1. Know your audience
It's probably no surprise that younger generations use social media most, while the 65+ crowd uses it less than any other age group. That doesn't mean social media isn't for you if your target market is over 65. It just means you need a different strategy. For example, people 65 and up choose FaceBook over other platforms. Millennials tend to use multiple platforms — except for FaceBook. You don't have to use them all. Customize your strategy to fit your business. Choose the platforms most likely to reach your target audience.
2. Make a content plan
Social media posts are short, which makes them look simple. It can be quick and easy to post from anywhere on a smartphone, but that's probably not your best strategy. Posting when and where you can squeeze it into your workday tends to create a chaotic posting schedule and posts that are impulsive, rather than strategic. Plan your posts like any other part of your marketing campaign. Planning ahead allows you to be prepared with meaningful images, hashtags, and links, and helps you track your progress.
Use tools like Hootsuite or SocialPilot to schedule and automate posting. They make it easy to post consistently and in bulk. Most also track the reach and engagement of your posts, giving you valuable data to drive future posts.
3. Encourage Engagement
Think of social media as a way to build a relationship with your clients. Like every relationship, some give and take is required. Focus on your readers' needs by sharing real content. Useful or entertaining content is more interesting than sales pitches and much less annoying! Readers will scroll past hard sells but may be tempted to respond to or share quality content. Encourage engagement by asking questions, sharing stories, asking for input, or posting surveys (very, very short ones).
When readers interact with your posts, respond! You'll foster a sense of community.
4. Provide value – don't just promote
We can't say it enough: don't focus on the sell. Provide value! When readers sense that your business cares about more than just the bottom line, it fosters a sense of trust. Ultimately, people purchase from companies they feel are trustworthy. Providing content that has value helps build that trust. "Value" doesn't have to be lengthy or even related to your business – it could be entertaining, inspirational, educational, or comical. Brightening someone's day or sharing the solution to a problem they're facing is priceless.
At MSG, we understand the power of using social media to promote your business. We also understand how hard it is to manage your online marketing while running your business.
That's where we come in.
We have 12 years of experience providing clients expert social media management in Ann Arbor and throughout the US. We know what it takes to succeed online.
Our services are designed to not only connect with your customers, but to help improve your native search engine results and dominate the social media landscape.
To get started, contact us today, or give us a call at 734-619-0736. We can discuss your needs and how we can help your business succeed!