Crafting an "Event Post" on Google My Business
You've claimed your profile and optimized it, and we showed you how to craft a What's New Post on Google My Business, now we're going to show you how to craft an Event post.
Are you running an office charity dinner? Do you have a special meet and greet event coming up? Do you have an industry seminar you're hosting and want people to attend?
Online Marketing in Ann Arbor, Michigan - Using Google My Business Event Posts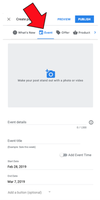 Making an "EVENT POST" on Google My Business
Event posts work a little differently than What's New, Offer, or Product posts. Event posts don't leave your Google My Business profile after 7days. This is because there is a built-in start and end date function.
Steps for crafting a Google My Business Event post:
First: Add an Image or Video.
As we said before, you need to have a unique image. Choose something eye-catching, bold, and colorful! You want people to see it and click on it. Videos are also very catchy and a quick way to be informative.
Second: Event Details.
Just like the What's New post, you get 1,500 characters to tell people everything about your event. Include all relevant dates, times, location, who is involved – anything that will not only entice people to sign up but fully inform them!
Third: Start Date and End Date.
This is the duration you want this event post to run, from the first day you're accepting sign-ups to the actual day of the event. You'll see above this section there is an option to include the event Start Time/End Time if that is relevant to your scheduling efforts.
Fourth: Add A Button.
We like the Learn More button best for most posts, but if you have the links for accepting sign-ups the "Book" or "Sign Up" choices are good options.
Event Posts are a great way to reach people. With the start and end time options, it gives you the chance to get more exposure for your event and time for more people to see your post than a standard Google My Business post. Just remember once you pass that end date you need to start posting on your GMB profile again so it stays fresh and current!
Don't have the time to regularly post on Google My Business? SEO Ann Arbor is here to help! We offer full local online marketing for the Ann Arbor, Michigan area businesses. From SEO to Social Media, we'll help your business thrive online! Contact Us or give us a call at 734-619-0736.