Zoom Tips from the Experts in Web Design in Michigan
Social distancing during COVID-19 means that many people are working from home and teleconferencing.
We've all skyped or facetimed with our families, but not everyone might be familiar with Zoom and what the etiquette and expectations are while teleconferencing.
Zoom is free software that requires an account to use. Many businesses use it for teleconferencing, but you might find personal uses for it too, like having a viewing party or virtual happy hour!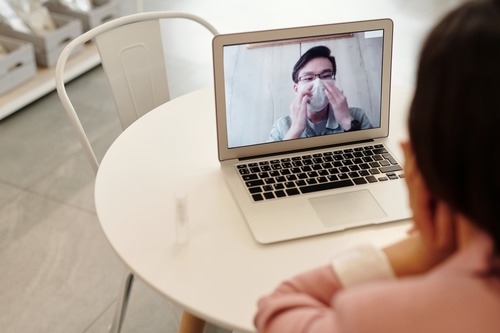 Zoom has been in the news lately because of the high volume of use during COVID-19 and some security concerns.
Despite this, it remains one of the best solutions for teleconferencing.
At MSG, we've been zooming for years! Here are some quick tips to not get caught with your pants down on Zoom, from your go-to company for web design in Michigan!
Use passwords for meetings! You've probably heard of "Zoom bombing" by now, where uninvited people disrupt Zoom meetings, often with inappropriate content. If you're very concerned, you can also lock a meeting once it begins. This keeps everyone out, even if they have the password!
Be on mute if you're not an active participant! It might not seem like a big deal, but little noises can create fuzz and distortions for others. If you're not sure if you're muted, there should be a sound icon on the menu bar. If you see a red slash through it, you're muted!
Make sure you have reliable audio and video! Try to do all of your tech troubleshooting before you're actually in a video call—no one wants to be the person who holds the call up or keeps dropping out!
Don't multitask while you're listening! You might think it's inconspicuous, but just like a normal meeting, your attention should be on who is talking, not your device. This way, you also avoid any awkward moments when you weren't paying attention!
Be flexible! Not everyone is tech savvy, and sometimes things break. Be conscious of this and be patient!
Is your place a little dirty? No problem! You can use virtual backgrounds on Zoom that place you in outer space or by the Golden Gate bridge! (Note—your coworkers may or may not appreciate this!)
Keep things short! Don't schedule unnecessary meetings that eat away at productivity. We recommend having an agenda for meetings to move things along!
Follow these tips, and you'll be zooming like the pros!
Michigan SEO Group has been supporting local, national, and international businesses for years.
See what your business should be doing during COVID-19 by reading this article, or have a look at our portfolio of amazing clients!