Web Design Trends to Watch (or avoid) in 2021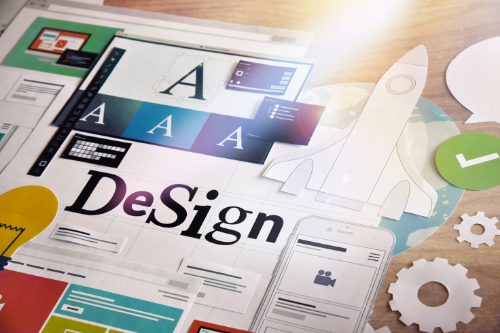 Do you wonder if your website "look" is out of date?
Are you thinking of adding some "flash" to your website?
Should your web design be trendier?
Web design and social media trends can change like the weather in Michigan. With more business moving online due to the pandemic, you may be wondering if it's worth it to keep up with those trends.
How do you decide?
Is "Trendy" Right for Your Business?
Website design can be time-consuming and expensive – whether you pay a designer or do it yourself. Especially if you update it frequently. Are you wondering if the time and money you spend staying on-trend can be put to better use in your business?
Trends predicted for 2021 web design and social media are leaning towards flashier, more creative designs. They add movement, 3D graphics, mood – like the icons you see in many social media posts. The question is: what do they say about your business?
Following the trends isn't always best for your company and, ultimately, you want to stay true to your brand. A solid website designed for your brand is always on-trend, but that doesn't mean there's no place on your site for current trends. It just means you should carefully consider your goals before making changes.
2021 Trends
Many of today's trends almost seem like an exaggerated response to the solitude, uncertainty, and conservatism of pandemic business. There's flash, color, layers, movement – things we've missed over the last year. It's exciting to be back in business! But, before you add trendy elements to the design of your website or social media, consider whether it will add or distract from your goal.
Some of the top trends for 2021 are:
Big typography
Using over the top font sizes and artistic font styles for design purposes is becoming popular. Using text as a design element can add personality and creativity to a web site but may seem out of place if your business is a practical product or service.
Micro-interactions
Small, interactive animations can give clients feedback while they navigate your site. For example, a trash can icon that opens and closes when an item is deleted from a shopping cart. Does it provide useful feedback to your customer base? Or will it be annoyingly reminiscent of a certain unpopular paper-clip digital assistant from the 1990s? It's been said that the concept of that "helpful" character was based on a misunderstanding of research on human behavior!
Scrolling interaction
Interactive scrolling is a popular way of encouraging customers to keep thumbing through screens on their phones. But think of those ads that roll up your screen, interrupting your reading as you scroll through an article or funny memes on your phone. How many users will simply close the site and move on? If you use interactive scrolling, keep it simple so you don't get in your own way.
Mixing and matching of different elements to be "unique"
Being unique is wonderful – your product or service should be uniquely yours. But trying too hard to be unique by adding too many visual elements to your web design or social media can send a different message. Too many elements can make it difficult to find the information, product, or services you want visitors to find. If navigation is too busy, they might just give up and go to your competition. Your website and social media should lead your visitors to your goal, without losing them along the way.
Use Design Elements in Moderation
We love artistic, unique design elements that add personality to your site! But a good rule of thumb is to use them in moderation to enhance your brand. Too much of a good thing can:
Create confusion about your message
Look spammy
Make you website or social media hard to navigate
Take focus away from your product or service
Suggest that you don't know your target audience
Ageless "Trends" are Best
The best trends don't fade. They're classics for good reason. For example:
UX (user experience) — The number one rule should always be to keep the user experience in mind. Make your web design and social media about your clients.
Readability — Text and graphics should be logical and add to your message. Text should be easy to read.
Know your product — Do trendy elements represent your product appropriately?
Respect your business and your client — Do flashy graphics and moving parts respectfully speak to your dream client? It depends – but if you're selling a product or service costing thousands of dollars, probably not.
Great Website Design Tells Your Story
In a digital world, your website is the face of your business. What you do on your website and social media reflects who you are. What does yours say about you?
Let Michigan SEO Group Write Your Story
We put real-world strategies to work for your business. Our custom, human-friendly websites, quality content, social media management, and best SEO practices make your digital presence more than just a website. It's an extension of your business, your values, and the people that make your business ROCK.
Contact us for a free website analysis or give us a call at 734-619-0736.
Looking for more on the latest trends in web design? Check out our 2021 Web Design Year in Review!