How to Create a Modern Website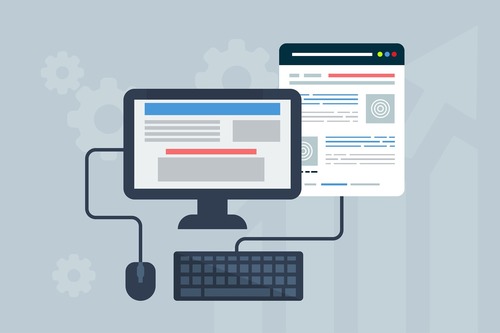 Does your website look stale?
Is your mobile site on par with your desktop site?
Do you know what elements you need for a great website?
Redesigning your website can be a daunting task. You may be comfortable with your current site. You may not want your customers to be thrown off by a new look. Luckily, it sometimes takes only takes a few steps to update your site and give your customers a better experience. As one of the premier internet marketing companies in Michigan, we have over 15 years of experience in designing fast, modern websites that serve clients and drive more leads.
Mobile-friendly layout
Statista says that 54.8 percent of internet use is done with mobile devices. With so many people using their phones to browse the internet, designing a mobile friendly layout shouldn't be overlooked. Adapting to different screen sizes can ensure compatibility across many different devices. A cluttered layout will turn off prospective clients, so it's important to keep things simple and well organized.
Minimalistic Design
One of the biggest trends in contemporary web design is minimalism. This gives websites a clean look that simplifies navigation. Including bold, easy to read typography is also key in minimalistic design. Pairing this with sufficient white space gives visitors a pleasant experience when they're on your site.
Color Palette
Choosing a few complementary colors and sticking with them across your site can express a sense of calm and authority. Visual appeal is important for keeping viewers on your site, so make sure you stay away from colors that clash.
Hero Images
Hero images are the large banner images at the top of a web page that draw visitors' eyes in quickly. They are a great way to make a good first impression on those visiting your website for the first time.
Semi-flat Design
What does semi-flat design mean? According to Hubspot, "a flat design is any element that doesn't include or give the perception of three dimensions, such as shadows. Not only is flat design easier for users to comprehend, but it can also load more quickly on websites without complicated or overly-technical elements."
If your website loads slowly or your design is hard to comprehend, consider a semi-flat website design. Consult one of our professional website designers if you're not sure what to look for!
Hamburger Menus
A hamburger menu is the three-stacked line icon that you see on many websites. It's compact, and allows for easier navigation by opening to a broad menu of options. Use a hamburger menu for a more organized website, and leave behind larger, clunky menu tabs.
Following these tips when creating your next website will help attract customers and keep them on your site longer. To learn more, check out our other posts on creating the perfect website for your business. This will take you step by step through creating the perfect website design, offering almost everything you need to hit an online home run!
Looking for an Internet Marketing Company in Michigan?
You can also reach us at (734) 619-0736, or by email at info@michiganseogroup.com to arrange a time to meet or to answer your questions. We would love to discuss your goals and talk about how our team of SEO professionals might be able able to help. As one of the premier internet marketing companies in Michigan, we have over 15 years of experience in designing fast, modern websites that serve clients and drive more leads.
Looking for more on the latest trends in web design? Check out our 2021 Web Design Year in Review!