Social Media Trends to Look Out for in 2022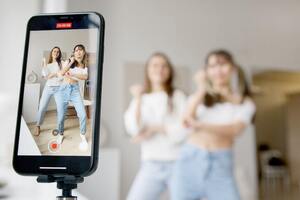 Want to improve your business' social media following?
The social media landscape is constantly evolving, and it's important for your business to stay on top of the latest trends. Creating interesting content that stays relevant in the eyes of consumers can be difficult. Going into 2022, we expect the following to be at the forefront of our industry:
1. Increase in usage across the board
People are using social media more than ever before, and we expect usage numbers to keep rising in the next year. According to SproutSocial, every generation, from Gen Z to Baby Boomers, saw at least a 50% increase in social media usage over the past year. Access to social media is more widespread now than ever, and it's not going away anytime soon.
2. Shopping on social
Led by Instagram and Facebook, shopping on social media is expected to grow in popularity in the next year. What once might have seemed like a gimmicky feature on these platforms is turning into a viable venue for commerce. If your business is looking to increase sales, social selling is a great option.
3. More short-form videos
Thanks to the rapid ascent of TikTok, short, easily digestible videos have become commonplace among most social media platforms. Attention spans are shrinking, and bit-size content will be an easy way to effectively catch the consumer's eye.
4. User generated content
A great way to increase engagement online is to highlight user-generated content. This is a simple way to produce relevant content for your feeds while also interacting with your followers in a meaningful and authentic way. We see this avenue for content continuing to make leaps in 2022.
Social Media Management Ann Arbor, Michigan
At Michigan SEO Group we help businesses like yours thrive by providing highly effective online marketing. From search engine optimization to website design to social media management – we utilize the best SEO techniques to ensure that your business ranks in Google search results. Call us at a 734-619-0736 for a free website consultation!